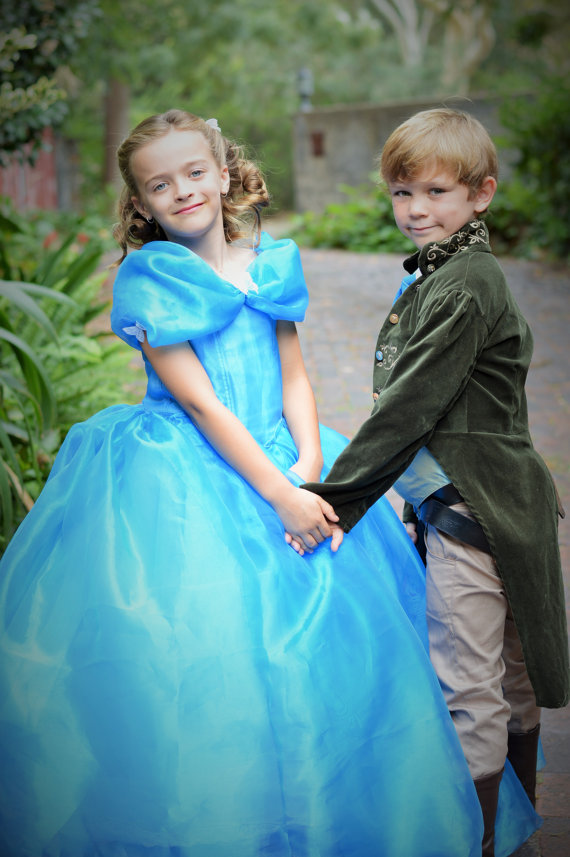 Once upon a time,
there was a mother of 6 boys who loved to sew elaborate and ridiculously OTT costumes, that only 1 of her darling children would allow her to put on …(and stand still long enough to take the photographs). One (probably sunny day when I should have been outside hanging out my mounds of laundry) in Facebookland this Mummy came across an advertisement for a remake of the classic tale of Cinderella
…..the dress caught her eye first, that beautiful blue gown and …..WAIT …… OMG isn't that Robb Stark from GOT !!! Like! Come! On! how gorgeous does he look in that green coat……and I knew someone else that would look just as gorgeous …..
And so one morning she told a slight mis-truth, to her husband and told him she had to go to the grocery store and bolted out the door with handfuls of cash to buy piles of green velvet and blue chiffon. She knew that the above mentioned son would only be too happy (ok maybe a few chocolate frogs …..and $5 notes were also involved) to oblige, adorning himself in the guise of Prince Charming.
Despite having a 3 year old boy whose sapphire blue eyes, golden ringlets and ruby red lips, could outshine most girls, alas the mother was female offspring challenged. She really needed to find a young maiden, who could wear the ballgown (and not destroy it within the first 5 minutes, such as would be its fate if the 3 year old got his hands on it). So she scouted the school yard for the perfect little girl to be her Cinderella. At once her eye landed on a little lady with beautiful fair hair like silk, piercing blue eyes and a beautiful smile befitting of any princess.
The girl's poor mother was coerced into giving her consent to her daughter being exploited in far away countries, using her family's storybook like property to shoot the photographs (and if that wasn't enough provided several bottles of beer once the photoshoot was complete).
The outfits turned out amazing, the photographs were beautiful and Prince Charming and Cinderella lived happily ever after (well it's been 3 days since the photographs and so far so good).
For my Prince Charming outfit I used a variety of patterns to create the look. The jacket was a slightly altered McCalls pattern. I used a dark green cotton velvet and used my Brother innovis to embroider the vine pattern. Two rows of gold buttons completed the look. The waistcoat was made from Peek-a-boo's Little Gentleman's vest using silk duipon and again gold buttons were added. The pants were also from Peek-a-boo. I used the skinny jeans pattern and made them out of a beige drill. My very clever hubby made me a leather pocket tab with a Cinderella design carved out of leather. I found a free cravat tutorial here
http://www.steamingenious.com/2014/03/how-to-make-victorian-cravat-or-ascot.html
to make the boot covers I just traced around his gumboots and used a pleather which was glued/sewn in place.
For Cinderella's ballgown I used a base of Foofoo Threads ballerina dress which I then basically draped blue chiffon around and hand sewed to the bodice to create the bust sash. I used a stiff tulle as the under skirt so that it would give it extra flair – the photos also show the dress worn with a crinoline.
This post was originally seen on http://maeandk.com/craftingcon-the-design-the-stitch-and-the-wardrobe-once/ and I thank Craftingcon for giving me a perfectly good excuse to make some fantastic costumes for no other reason other than I wanted to. Until next time……
The custom made costumes are available to purchase  in my Etsy shop  found at the following link
This dress is in the Etsy store girls section:
[etsy-shop shop_name="DesignStitchWardrobe" section_id="17006224″]