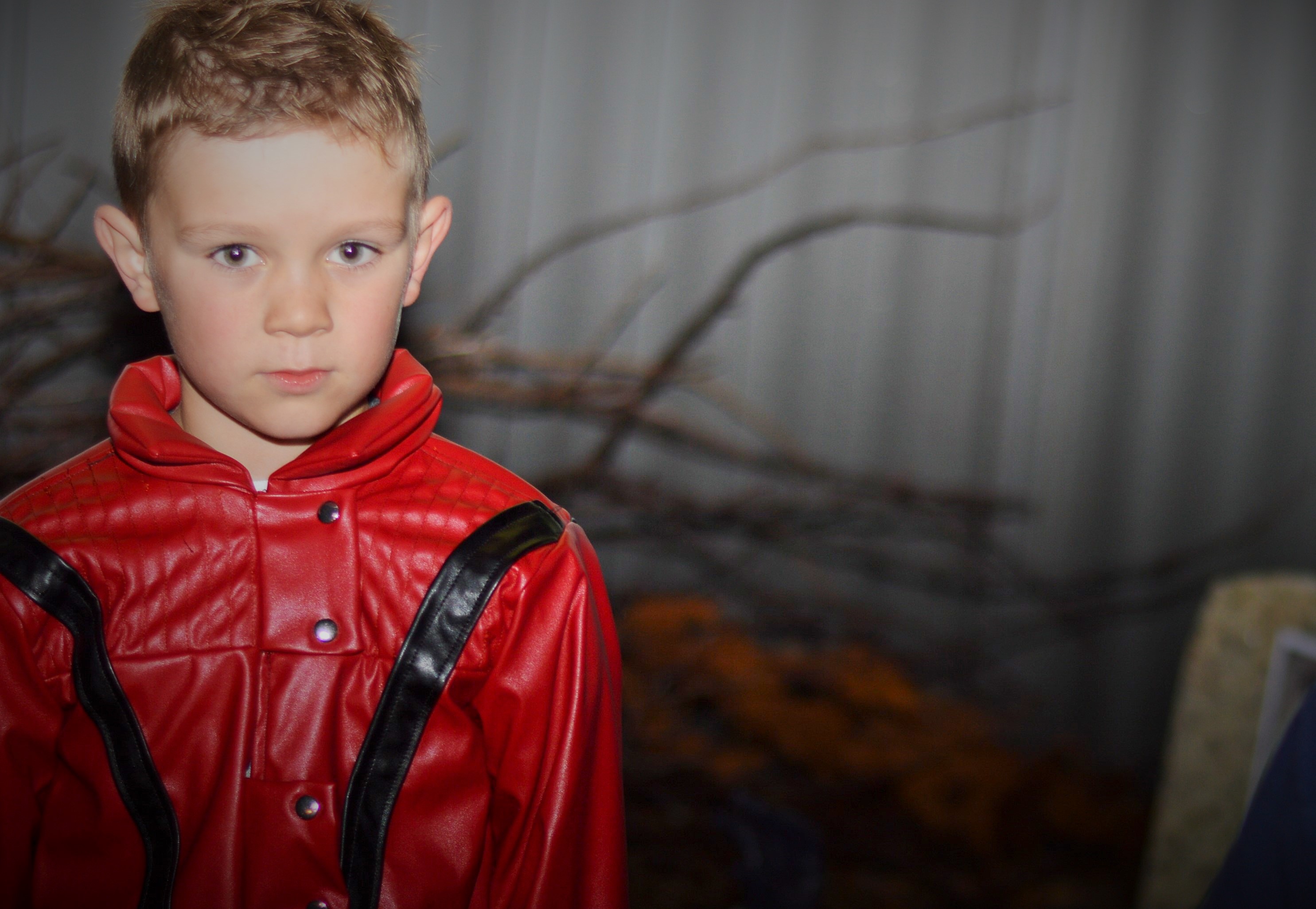 For the last  6 months or so, Mr 7 has been slightly obsessed with all things Michael Jackson. Well not 'all' things thank goodness, just the dancing and the music. His 7th Birthday is coming up and seeing as he missed out on a party last year, due to his baby brother having just been born, we thought we would throw him a bit of a shindig.
We decided on a Thriller theme, firstly because it's his favourite song but also because we could incorporate a bit of a zombie theme –  for those who were adverse to wearing sequins.  He had a Billy Jean costume from when the lucky monkey got to go to 'Thriller Live' with his grandparents, however I figured he should have a Thriller jacket for a Thriller party.  Now this was on top of an urgent order for one of my Prince Charming costumes, one of the Joffrey costumes, two pirate costumes, having to 'unboy' the house in preparation for the party and organising the party itself.  Arghhhh.
Meh! I'm not big on making life easy for myself 🙂
I used http://www.peekaboopatternshop.com/happy-camper-reversible-jacket/ as a base to make the jacket from. I stitched parallel lines into the shoulder panels to recreate the ridged look. Instead of installing a zip (any excuse not to put in a zip) I made rectangluar tabs with snap closures. The 'V' was just a strip of leather (well pleather) appliqued on top.
The next thing to organise was the cake ….yeah,….. that's not my area of expertise. Just mentioning the words 'helicopter cake' to any member of my family will result in them dissolving into fits of giggles. Let's just say it ended up looking more like a certain part of the male anatomy than the airborne vehicle it was supposed to represent.  My sister on the other hand has shown a bit of talent in that department in recent years so she got the gig.  A quick search of Pintrest (obviously) was all it took and this was the final result.
A few other finds from Pintrest that fit our theme:
My favourite find for decoration were some printables with some words from Thriller(the two I found were from here  http://anightowlblog.com/2013/09/thriller-halloween-printables.html ), so I took those 2 and made some more of my own – added a couple of creepy pictures and made a 'scary' bunting of sorts
The final touches were added  – self explanitory really
The kids all had a 'Thrilling' time (sorry)